Got up early this morning to get everything packed up.  Did so, ate food, packed a lunch, loaded everything into the car, checked out of the room and then went to an 11am panel.  The panel, on converting text to e-books, was well attended and I took some notes.  Four panelists with entirely different toolsets and goals.
Wandered through the dealer's room, picked up a few little things.  A real, wind-up, mechanical pocket watch which I liked, and some CDs from Jeff and Maya Bonhoff.  Then walked across the hall to watch Jeff and Maya perform.  They had Vixy of Vixy and Tony, as well as a cellist and violinist who's names I didn't catch.  Their daughter sang backup – again, I missed her name – and it was a fun hour's worth of live music.  

The violin and cello added a lot to the two guitars.  Not all were parodies, some were new folk music.  Will share that with Mom and Dad.
Then, fool that I am, I went to the art auction.  I say I'm a fool because I bought things.  I bought two pieces from Brianna Spacecat-Wu.  They fit together into one big image.  Planets with cat ears and tails.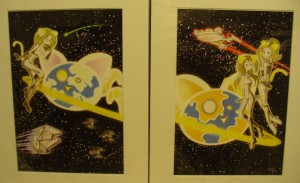 Spaceships with the same.  Some of her long, thin women, with cat-ears and tails.  They were inexpensive, and a set.  When I got the first one for a low price, I simply decided I had to have the second.  It wasn't much more.  The hard part will be getting them to San Jose.  May have them shipped.  May try and get a photo to upload later.
Meant to go to a panel on "Urban Science" after the art show, but didn't.  Wandered around, talked to people, hung out in Hospitality until the Opening Ceremonies.  Went to those, and watched Brianna Spacecat-Wu commandeer the moderator's spot and run the thing pretty well.  Lots of laughter, and a pretty good turnout.  The con had 900 paying members, and 800 in attendance.  And was officially over.
I swapped out the technokitty costume for a normal shirt and hat and went back to Mom and Dad's where we had some nice BBQ and a quiet evening.  I need to get a bunch of photos converted and uploaded, and then can update this blog and facebook.
Tags: westercon2012